50 ans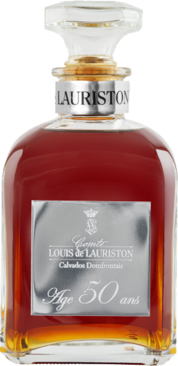 Calvados Domfrontais
Comte Louis de Lauriston
Founded to put an end to illicit distilling of Calvados in the Domfront region in 1963, the Calvados Comte Louis de Lauriston cellars today possess the rarest forgotten treasures dating back to this period of clandestine production.

Selected from the best Calvados in our cellar, this blend is made of calvados aged over 50 years old.

"Very attractive dark amber color. Complex, highly expressive nose.
The fleeting aromas change from fruit into exotic wood, then into dried spices. In the mouth, the eau-de- vie has a concentrated power and velvetiness. A perfect balance in a very rare Calvados. "